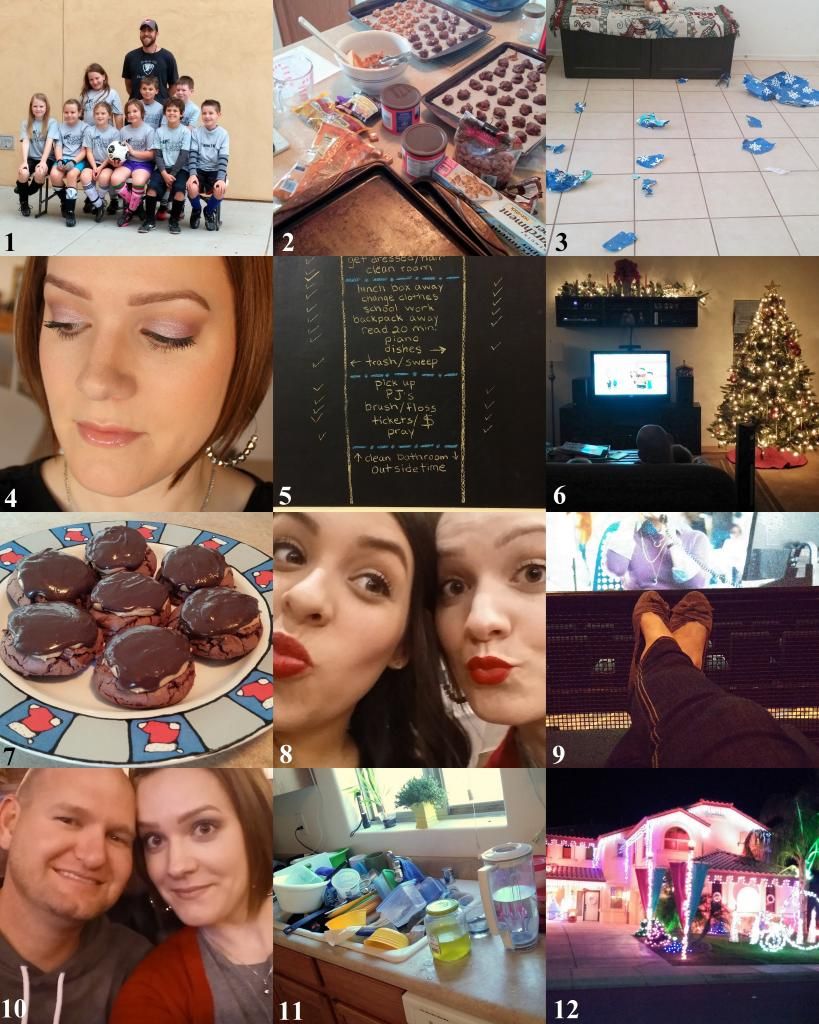 1: Bree got hit square in the face during her soccer game on the 6th, but kept right on playing. When I complimented her on it, she said, "A few tears were shed, but eh, I'm fine."
2: Candy making day! Caramel nut clusters, toffee, brittle, truffles, oh my.
3: The first casualty of the season. I was feeling so proud of myself for getting some early wrapping done. The next morning, Chad's gifts were open and strewn across the floor. Lincoln!
4: I started a Mary Kay page on Facebook. I've been trying to widen my client base, and it's been fun to post about makeup and skin care tips! This post was about applying sparkle eye shadow.
5: The latest version of the kids' chore list is up on the chalkboard. Because they can't seem to remember the basics, and I'm tired of sounding like a broken record. Their allowance depends on how many check marks they have, so hopefully they'll stay motivated.
6: Phineas and Ferb Christmas episode. Dark house and twinkle lights. Love it.
7: Pinterest success! Buckeye Brownie Cookies. Uh-MAZING.
8: At the ward Christmas party with my friend Reyna. I made her put on some of my red lipstick, cuz that's the kind of friend I am.
9 and 10: Chad and I celebrated our 13-year anniversary with a night at a resort. We ate out, saw a movie, and generally enjoyed quiet one-on-one time. I finally got to experience the magic that is a movie theater recliner seat. Yes, it is as awesome as I imagined it would be. We watched Interstellar...movie was weird, but I had a great time anyway.
11: How does she do it all? The baking, Christmas wrapping, running kids around, all the while looking fabulous? This is how. Plenty of crap gets left undone. Thank goodness for Chad, otherwise we'd have no clean laundry either.
12: We went to walk around the Loop of Lights this year. A nearby neighborhood goes all out with Christmas lights. This was the Cinderella house. One insane house has millions of lights, all programmed with music. It was awesome.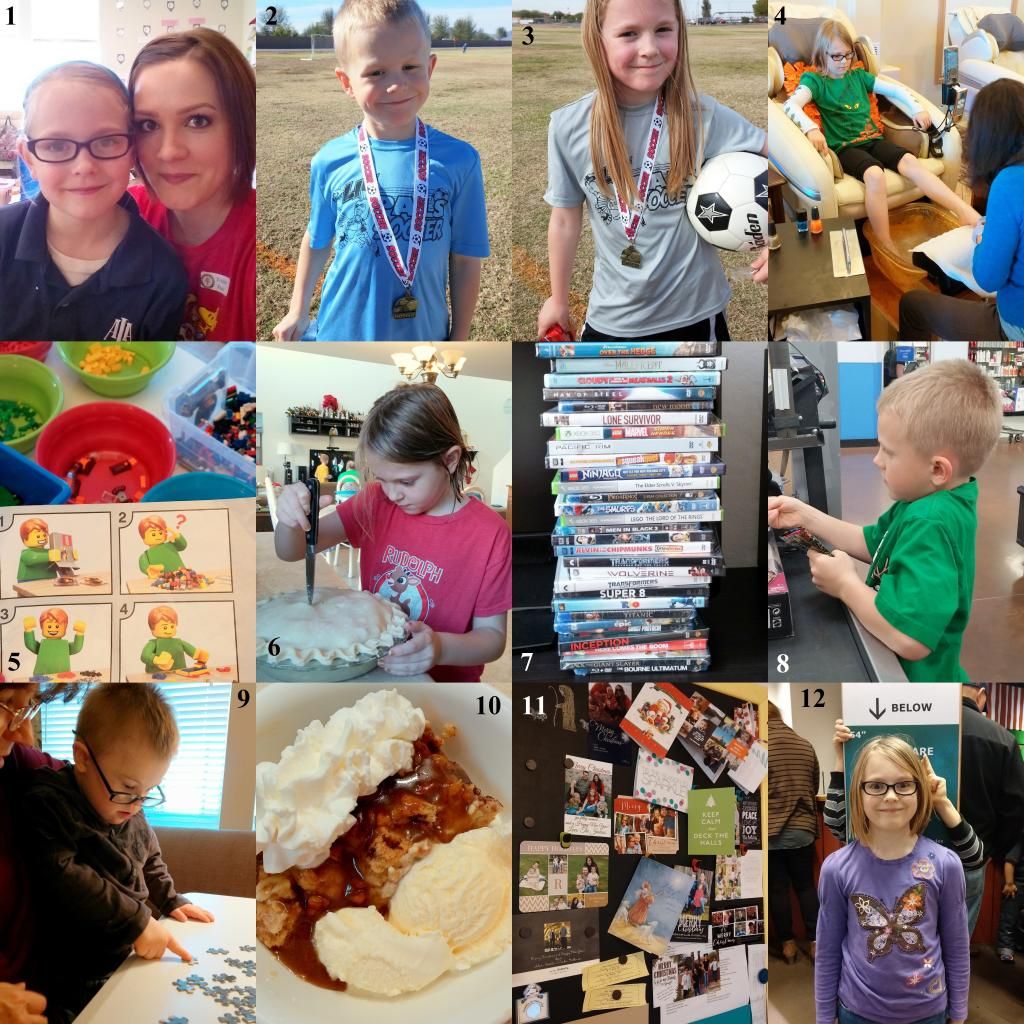 1: I helped out in Bree's classroom for their Christmas party! I taught the kids how to make 3D snowflakes. She loves having me there.
2 and 3: Bree and Mason both played their final games of soccer, and received their medals! They stuck it out, played hard and with good attitudes, and we're so proud of them.
4: My mom took Bree and I for some much-needed pre-Christmas pedicures. Toes need to be ready for Christmas too.
5: As Emmit from the Lego Movie would say, "Follow the instructions." So we are sorting all of Mason's legos. Building anything is impossible unless we do.
6: Bree loves helping out in the kitchen. Grandma let her pierce the apple-blueberry pie before it went in the oven.
7: I THINK Santa brought us enough DVDs...maybe...
8: Mason and Bree went shopping with their Christmas money from Grandma and Grandpa Wallace. Bree chose a CD and Ever After High dolls, and Mason chose Legos, of course.
9: Lincoln saw Grandma wearing her glasses to work a puzzle, so he went over to the end table where extra glasses are kept, and put these on. I am dying from the cuteness.
10: Copycat
Famous Dave's Bread Pudding
. Enough said.
11: We got a record-breaking number of Christmas cards this year. Seeing them fill up the chalkboard made me happy. Does this mean we're getting more popular?
12: This might have been Bree's last visit to Smaland at IKEA. Sad.