I thought about waiting until I had my house all clean and decorated to take pictures. But, let's be honest, that day is a long way off. Our new home is almost twice as big as our old one, we have a long list of things that we need in order to completely furnish it, and the decorating is sure to take a while. We're just kind of staying afloat around here. If I get the homeschooling and the dishes done on the same day, we're doing awesome. And cleaning a house this size is a heck of a lot more work! But I wanted to get a few pictures of the house posted, and I figure that these will serve as "before" photos. Plus, it's kind of fun to look at each picture and see if you can spot what is missing (furniture, decorations, feng shui). Sort of a Where's Waldo thing.
Here's the living room (the two-story ceiling is my favorite):
The view from the upstairs balcony. Incidentally, that ball on the rug soon found its way onto a second-story windowsill. It's still there.
The kitchen/dining (I LOVE the island. How did I function without one before?):
I do NOT love the appliances. I thought our appliances in Globe were cheap. I had no idea. The fridge has broken drawers, the oven cooks things way too fast, and the dishwasher is not tall enough for any of our big pans
Pantry/laundry room (so much room for food on those shelves; it's awesome):
Office (the one room where we desperately need a ceiling fan, but there's no wiring for it):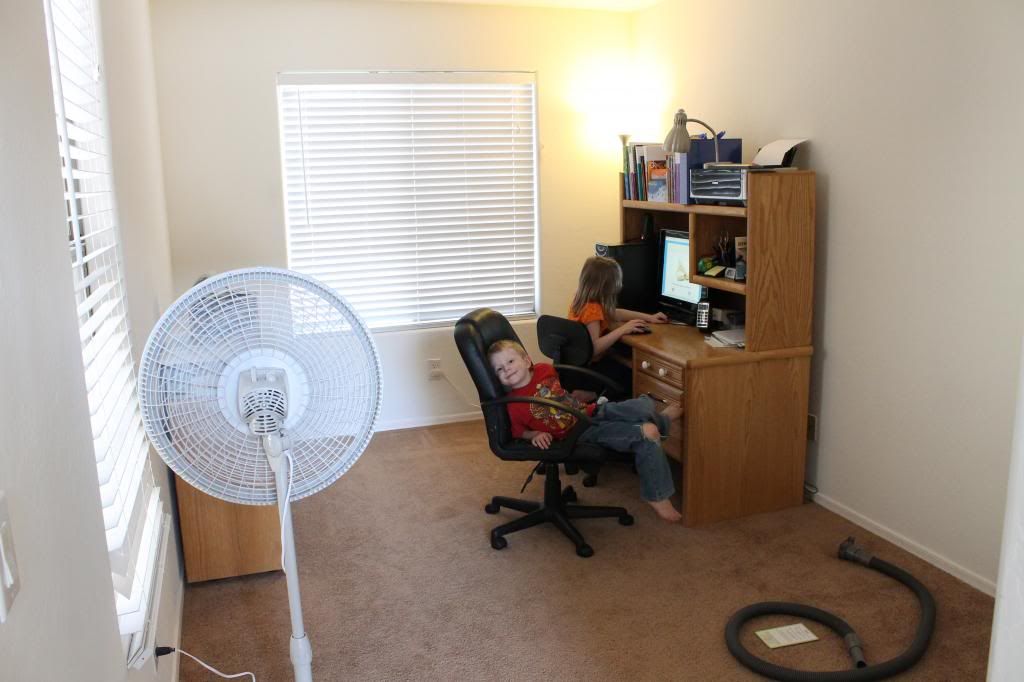 The office no longer looks like this. We have since unpacked all of our "crap" from the camping trailer. Much of it fell into the crafts/sewing category, and many boxes found a new home in this room.
Downstairs bathroom:
Proof that we own a home with stairs! (the kids' favorite thing):
Loft: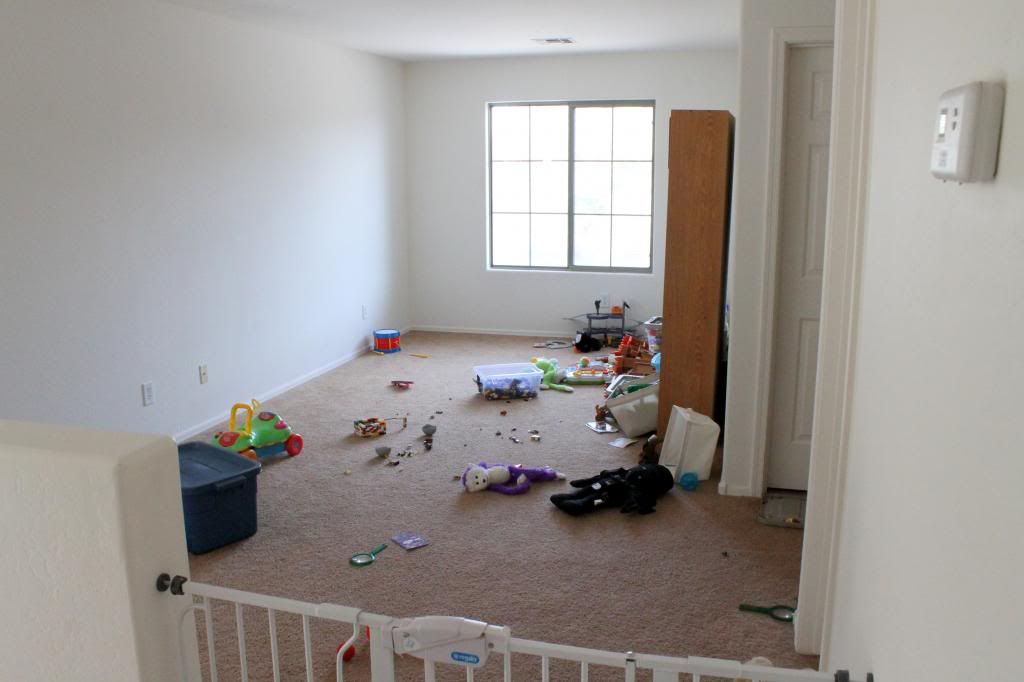 Clearly this room needs help. But I don't mind that it's usually a mess. Because it's totally out of the way and out of sight.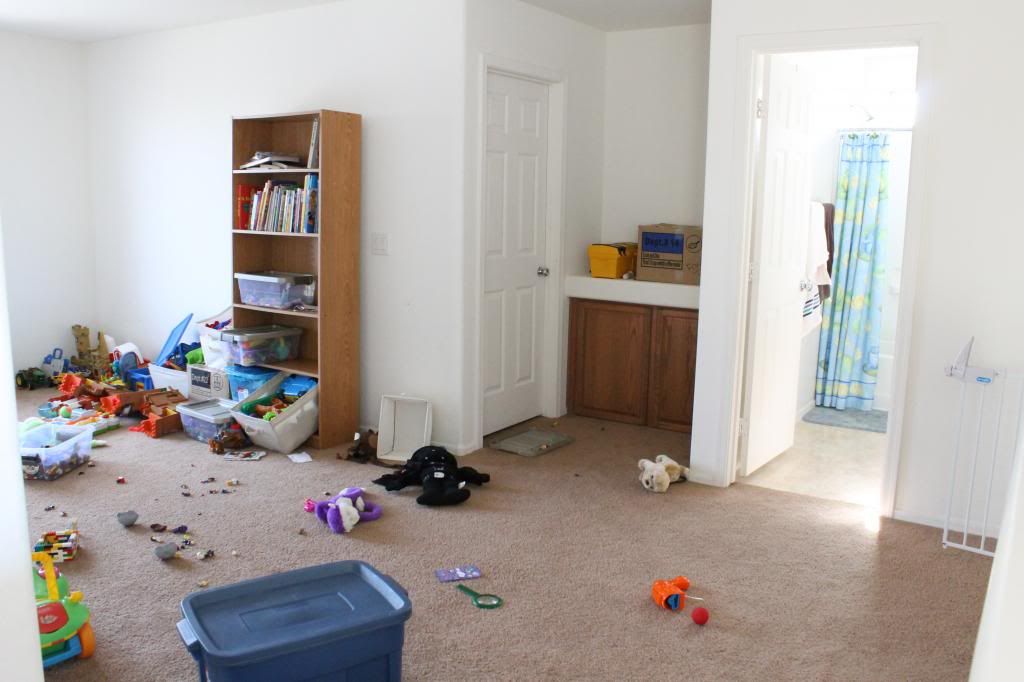 The doors to the boys' room and the kids' bathroom.
The balcony by Bree's room.
The view from the balcony, and the windows that bless our lives with delicious natural light.
Kids' Bathroom: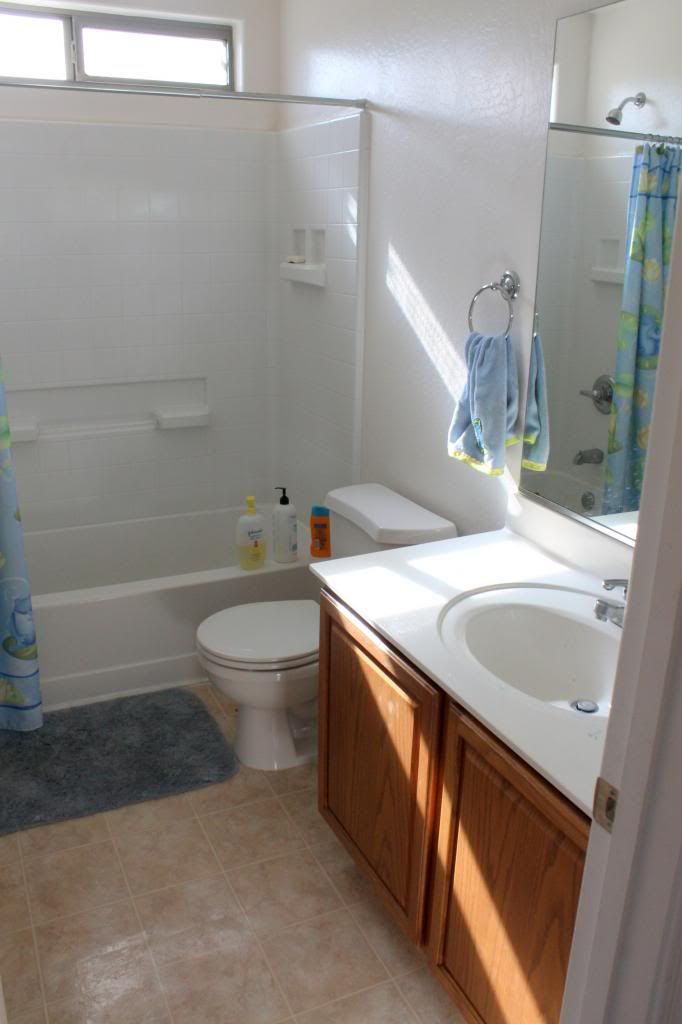 What, no blue toothpaste smeared on the counter? Whose house is this?
Bree's Bedroom: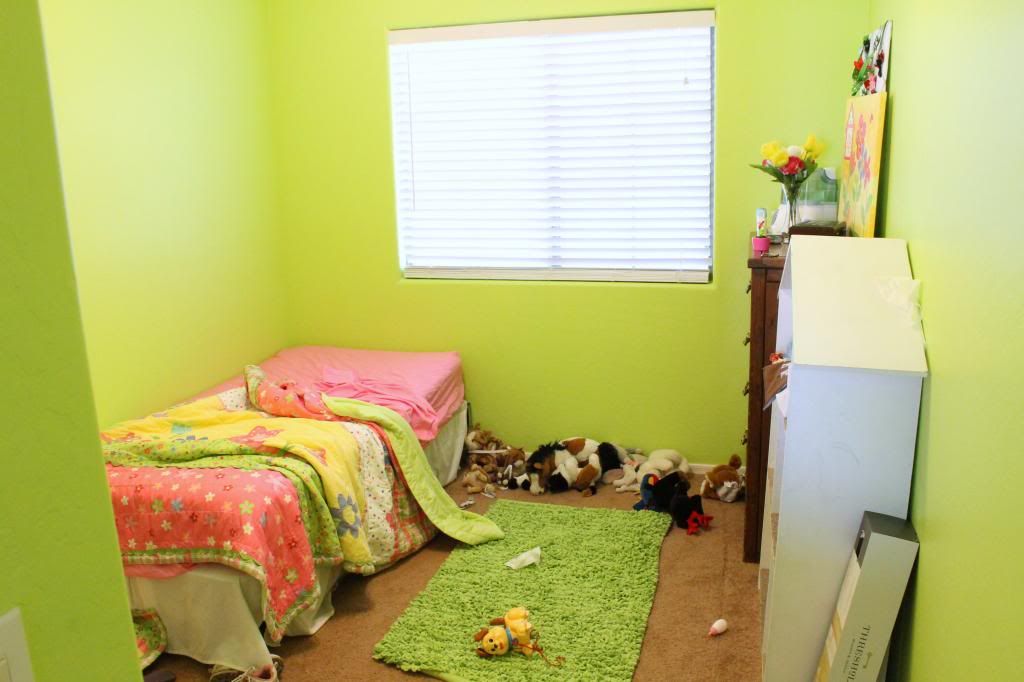 This room is half-way through its makeover. Bree picked out new bedding, a rug, and a very bright shade of green paint!
Boys' Bedroom: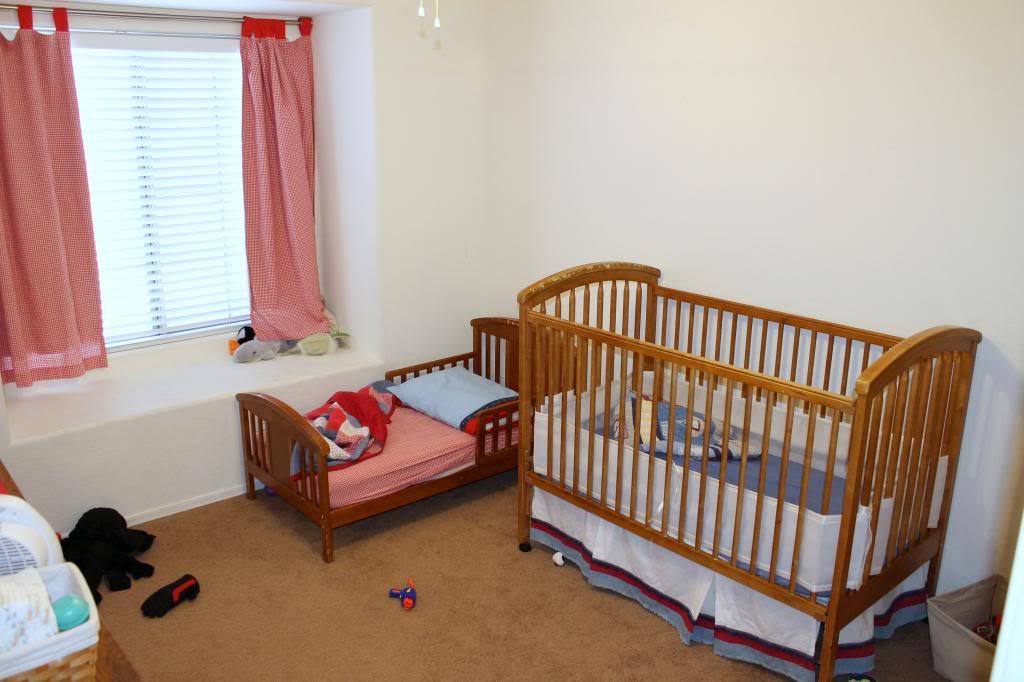 Yes, poor Mason is still sleeping on a toddler bed.
Master Bedroom:
Master Bathroom (2 sinks!) and HUGE Closet: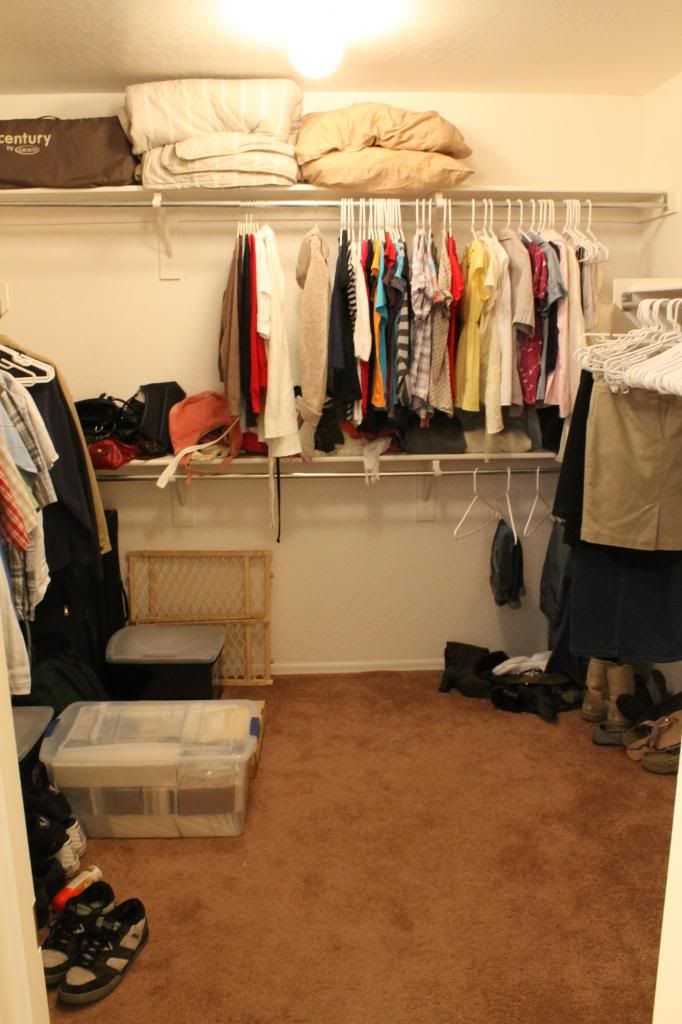 Every time I walk into my closet, I still sigh with contentment.
I would also like to take this opportunity to pen a letter of concern to the previous two owners of this home. *Ahem*
Dear Clueless Homeowners,
I can't for the life of me figure out how you survived in this house without a few of what I consider "necessities."
Hand towel racks. Seriously? No hand towel racks in two out of three bathrooms? And I don't know who decided to put the master bath towel racks in the toilet room. How many times did you have to get out of the tub, walk across the floor and through the toilet room door, dripping water all the way, to retrieve your towel? Plus, bath towels hanging over the toilet? Gross.
Ceiling fans. I realize that not everyone uses them. But if you live in the desert you should. Your cooling bill would have thanked you. However, barring that, it's inconceivable that none of the living spaces in this house had overhead lighting. I don't know how you survived with only small lamps in the corners of your bedrooms. Um, in case you didn't notice, there were little round plastic plates on your ceilings. Those are for liiiights.
Finally, I cannot close my letter without expressing concern for your level of cleanliness. The amount of cat hair that I have vacuumed up is astounding. No, actually, disgusting. When I moved the fridge to clean, I thought I had discovered a pet that you had left behind. But it was just a kitten-sized ball of cat fur. Also, the perfumy smell of the carpet powder you used was nauseating. This was remedied once I'd had a chance to vacuum all corners of the house. However, we soon came to realize WHY you used the carpet powder in the first place, especially in the loft. When the perfume smell dissipated, a urine smell took its place. Wonderful. There is such a thing as housebreaking your dog, you know. Taking care of pets is a big responsibility, one that I don't feel you're ready for.
Having gotten those few things off my chest, I would like to say that, despite the above, we do love the house, and we are happy to take ownership. We will undoubtedly do a much better job as its stewards than you did.
Sincerely,
Megan Wallace