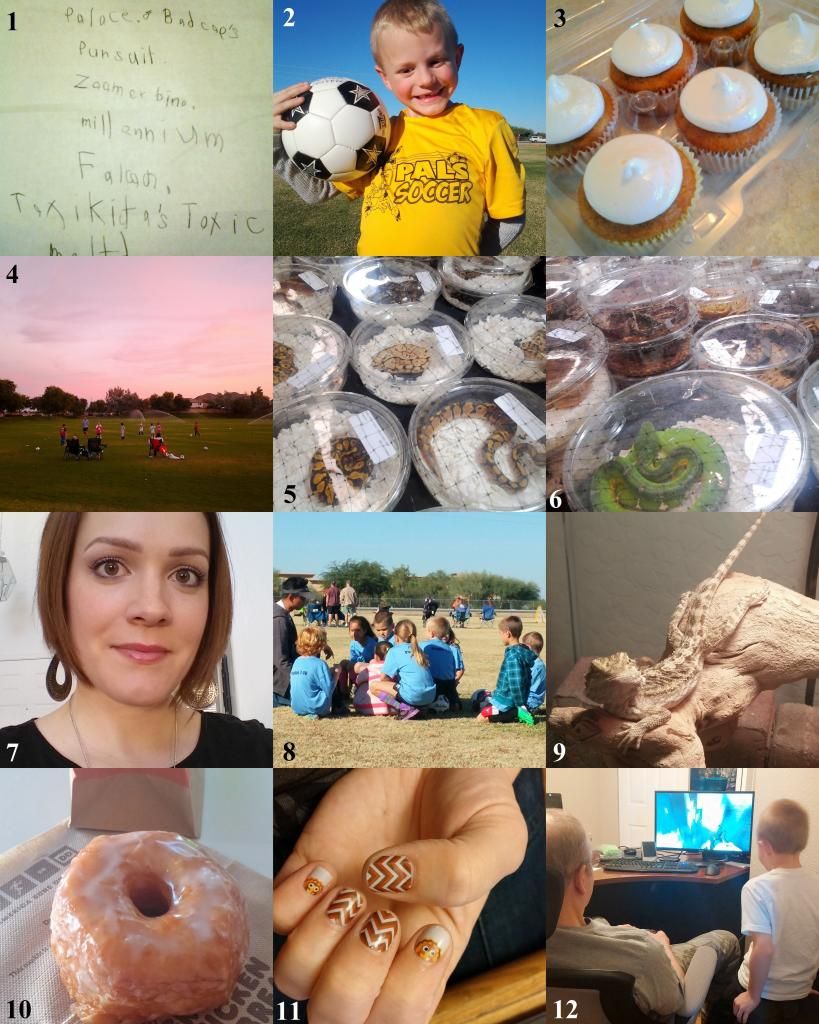 1: The season of letters to Santa has begun. Mason got off to an early start. On the list: Cloud Cuckoo Palace, Bad Cop's Pursuit, Zoomer Dino, Millennium Falcon, Toxikita's Toxic Meltdown. All Legos except for the Dino.
2: November 8th was the first game of the soccer season for Mason and Bree. A perfect time of year for being outside.
3: I tested a new cupcake recipe in honor Thanksgiving: Sweet Potato Marshmallow. They turned out delicious, though I couldn't really taste the sweet potato. Which was actually fine by me.
4: Soccer practice under a gorgeous Arizona sunset. My pictures never do it justice.
5 and 6: Chad has been looking forward to the Reptile Expo for months. I went with him, and we made a day of it. I thought it was hilarious that they were selling reptiles in tupperware. I'm not sure what I expected...
7: Chad and I got new smartphones! Thanks to a great deal because of his job, we got a great monthly price, and awesome phones for free. This was my first selfie with the new phone. Everything about my LG2 makes my old "smart" phone look like a joke. I can't believe I used that thing for a whole year.
8: The kids' soccer league is Christian-based, and they say a prayer before every game.
9: I don't know if all bearded dragons are as weird as Ash. She rests in the strangest positions.
10: Ever since discovering Legendary Doughnuts on our trip to Washington this year, I have been trying to find somewhere that sells doughsants (half doughnut, half croissant) like theirs. I was so excited to snag this at Dunkin, but was hugely disappointed. Nothing like that crispy, buttery, chewy croissant-like doughnut from my memories. But I will not stop searching.
11: I have a couple friends that sell Jamberry nail wraps. This design was actually for kids, but it was too cute for me to pass up.
12: Mason and my dad spent most of Thanksgiving day playing video games. Mason was, of course, in heaven.