Lincoln is amazing. He completes our family. He is mostly calm, with bursts of feisty. Sweet, unless you're Mason and you're "loving" on him, in which case he will bite you. He often gets overlooked with so much going on in our house, but he is usually perfectly content.
He never gets tired of being read to. He brings me books whenever he catches me sitting down, and slaps them down in my lap (or sometimes into the side of my head if he can reach), demanding to be read to. He knows when I'm "fake" reading, and if my attention is not 100% trained to those pages, he lets me know that he's noticed. He can be very vocal when he's not happy.
He is so stinking cute! I don't remember my other kids having such an adorable pouty face, reserved for when he has hurt feelings or is in trouble. And he dances whenever he hears a tune of any kind. Usually with a head-bob that throws him off balance. And his smile! When he is full-on smiling, his happiness overwhelms his entire body, to where he has to lean forward and hug his chest because there is too much happy to be expressed merely on his lips. No one can resist a smile like that.
We are in love with him.
During the past few months, he has made great progress communicating. It is so nice to know what he's wanting or thinking. Here's where he's at:
Spoken words
:
hi
bye or buhbye
nana (banana)
baba (bottle)
dog
ock (book)
dada
The words he only whispers, for whatever reason
:
saaah (soft)
hug
cuhkuh (cracker)
Signs
:
food
more
banana
cereal
cracker
sandwich
cake/cookie
cheese
milk
bottle
orange
popcorn
apple
all done
dog
bunny
pig (accompanied by a snorting sound)
horse
bird
duck
dinosaur
hat
bath
baby
sleep
book
He learns quickly, and his signing vocabulary is only limited by his fine motor skills. But we can usually understand his meaning (for example, his "bunny" and "sandwich" look almost identical, but context clues usually tell us which one he means).
Aaah! I love it!
Anyway, we postponed celebrating Lincoln's birthday until Chad's parents were here. They got him an awesome tricycle that he can actually move around on with his short chubby legs!
He clearly loves it!
And though he had no clue what to do with those birthday candles...
...he was obviously ready to dig in, and kept signing "food" and "cake!"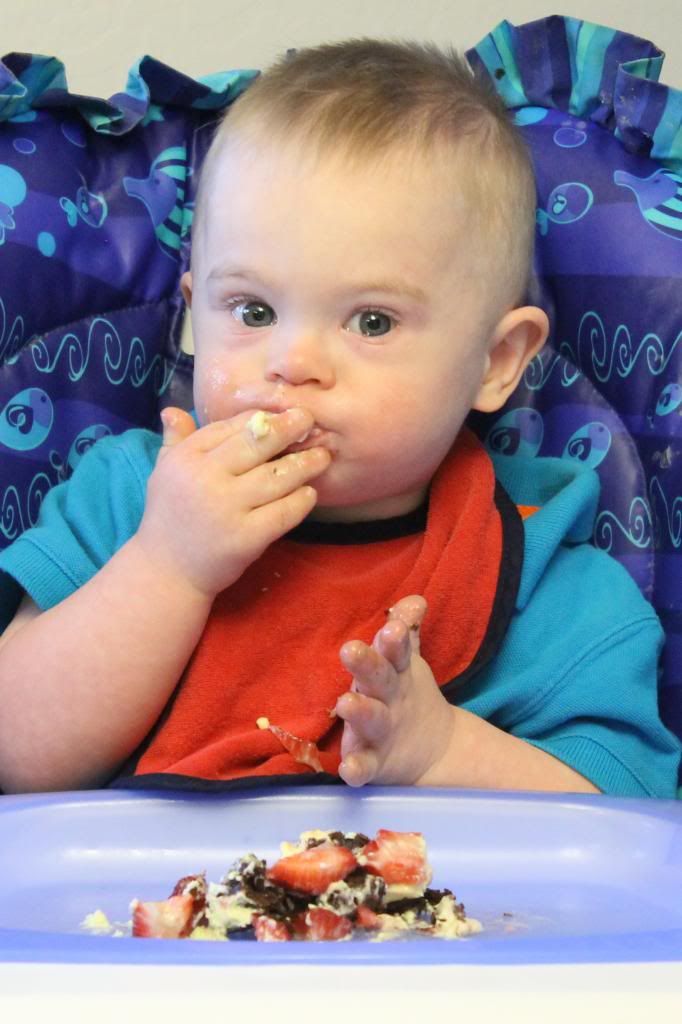 Happy Birthday Lincoln!