I was doing just fine with my dumb phone, thank you very much. But I was fed up with our contract and its ridiculous price--especially considering that I was paying extra for a measly 250 texts a month. So I shopped around for a new phone provider, and I found a no-contract plan with better features for much less than we were currently paying. And then I realized that I could get a smart phone for just a little more. So, when I saw a Black Friday ad with a Samsung smart phone for $29, I jumped at the chance.
And I still can't get over how many possibilities can fit in the palm of my hand. For instance, I can take pictures...and then actually do something with them! Like, I can take them off my phone! Put them in my computer! Amazing.
So, without further ado, my first phone photo collage: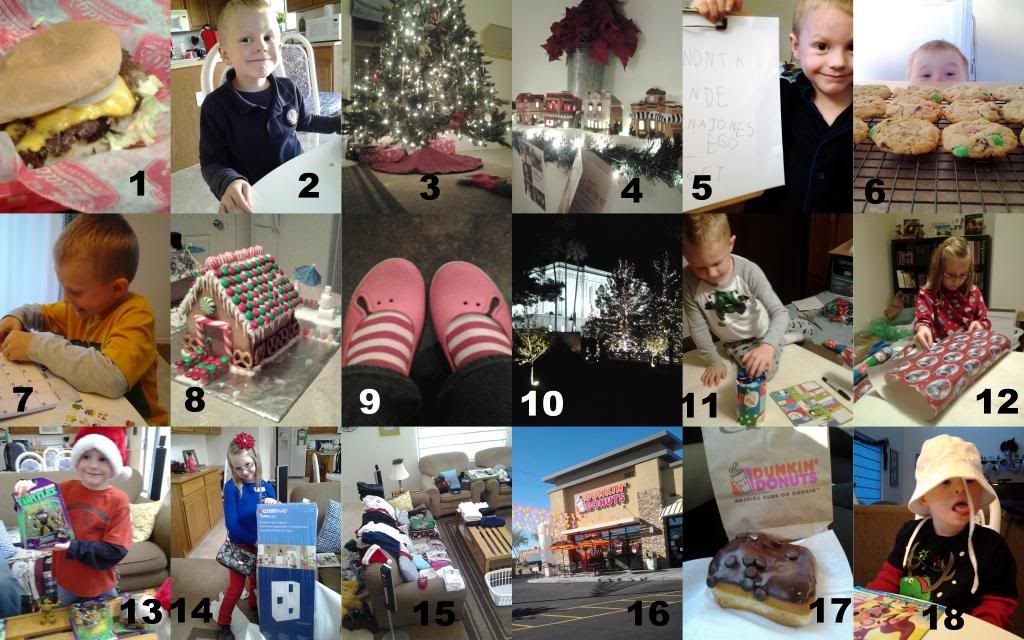 1. We got a new food place around the corner. Freddy's Frozen Custard & Steakburgers. Literally around the corner. As in 0.6 miles away from our front door. Dangerously close. And yes, it is as delicious as it sounds.
2. Can you have a favorite child? Yes. Bree is my favorite child when it comes to shopping. Lincoln is my favorite when it's time to snuggle. Mason has my favorite impish grin. He's my favorite when it's time for homework (he's really smart)...he's also my least favorite when it comes to homework (he is SO easily distracted). He's my favorite for pure energy and enthusiasm. Aaaand he's my least favorite when it comes time to deal with bugs (the kid screams like a little girl about to be murdered...unless it's just a regular fly...he has no problem catching those...weird).
3. Our first Christmas in our new home. The tree is my favorite--an eclectic mix of homemade ornaments, mementos from vacations and life events, and cheap unbreakable stuff from the dollar store. It became clear very quickly after we decorated the house this year that we need a whole lot more Christmas stuff to fill up our bigger home
4. Chad and I bought little ceramic houses at Walmart waaaay back when we didn't have kids yet. And we painted them together. Over the years we've added a few more to our town, but the painting kept getting put off (because, by this time, we had kids). I finally finished the last house this year. Actually this little town might tie with our tree for our favorite Christmas decoration.
5. Mason probably wrote and mailed 5 letters to Santa this year. All on his own. I convinced him that letters to Santa are given a postal exemption, and therefore don't need stamps. Most of his letters were sealed before I had a chance to read them. But I am so glad I got to see this one. "I WONT A INDE ANAJONES LEGO SET"
6. Lincoln keeps surprising me with what he can get himself into--and how quickly he gets there. Of course, if sugar is involved, he is very resourceful. He is in a stage where I frequently find myself feeling proud and terrified at the same time."Wow, you climbed on the counter! (Awesome gross motor skills!) But you shouldn't do that, because then when you fall and hit your chin we have to go to the doctor and you get three stitches!" (That visit was fun: trying to entertain him with a smart phone video while the assistant held his head "still" and the doc tried his best to put those stitches in...all three of us sweating profusely).
7. My mom gave Bree and Mason subscriptions to Highlights and High Five magazines. They loved the calendars that came with them. We spent a long time putting all the holiday stickers on the correct dates.
8. Gingerbread houses 2013. Bree designed this one, and I helped her with the frosting. And now that we have a kitchen island, we actually got to display them nicely, instead of shoving them on top of our refrigerator to get them out of the way.
9. I admit that when I took this picture I was trying to channel another blogger who frequently posts pictures of her stockings/shoes which always reflect the season/mood of the particular post. This particular sock/shoe combo not only imbued a holiday spirit to our outing that day, but it included the bonus of me getting asked if I was a Bass Pro Shop employee (to be fair, I was wearing a green Christmas shirt as well, and was standing next to the carousel in the Winter Wonderland).
10. Aaah, the Mesa Temple Christmas Lights. We went last year, and I loved it. The lights were gorgeous, there was a great spirit, we stopped to listen to the message being played through hidden speakers, and I took some great photos. This year...we made the grave mistake of going on a Saturday. It was. So. Crowded. It was impossible to enjoy it. But I did get a couple decent photos without throngs of people in the frame. Still gorgeous. But we won't make that mistake again.
11 & 12. Mason and Bree did a decent job of wrapping their own gifts this year. Bree didn't need any of my help. And I assisted Mason a little. That kid gives up easily on certain tasks, but the excitement of the presents kept him going surprisingly well.
13 & 14. Since we were going to be spending Christmas day at my parents' house, Bree and Mason opened their gifts from Grandma and Papa Wallace before we left. Mason got the whole set of Ninja Turtles and Shredder. Bree got a grown-up purse and some shelves for all the nick nacks in her room (she seriously channels an 70-year-old woman).
15. Laundry is a bi-weekly chore now. We got away with doing all our laundry once a week for quite a while. No more. I think it was the kids school uniforms that sent us over the edge. Chad always helps with the chore. His location preferences for folding vary, and on this particular day the spread was quite impressive.
16 & 17. Ok, so first Freddy's opened up, and then this? Right around the corner! Donuts are one of my favorite food groups. On this particular day I treated myself to a cheesecake filled, double-chocolate topped one.
18. There's no real explanation for this photo other than it was cracking me up watching Lincoln chasing the chin strap of this hat with his tongue. Totally counts as speech therapy, right?
I continue to work on figuring out my camera phone. Sometimes the pictures turn out great, and sometimes they're blurry beyond all recognition. Not sure if I'll relegate them to their own unique posts (like this one), or mix them in with the others. Time will tell.
But I do know one thing: I love being in the Smart Club.