When did I become old enough to have an eight-year-old? My first baby is a big girl. It's a bit overwhelming. Don't get me wrong: parenthood has been overwhelming from the get-go (This newborn depends on me for everything!...This toddler will form most of her neural connections before she's five!...Which school should I choose to help shape who she is as an individual?!). But turning eight means she is a full-fledged accountable person, ready to make baptismal covenants. And all we can do as parents is teach her the best we can, and hope we did okay.
This past year we've been focusing on helping Bree prepare to be baptized. Our daily scripture reading has moved out of "Book of Mormon Stories" (illustrated version) to the actual Book of Mormon. We've talked a lot about our testimonies, and Bree bears hers in Sacrament Meeting every chance she gets (although she has been doing that for years). She has taken an active role in our Family Home Evening discussions, and blows me away with her knowledge of the Gospel of Jesus Christ.
She really was ready. Ready to turn eight. Ready to be baptized. Ready to make the choice to get her ears pierced. And ready to party.
The morning of her party, my mom and I took her to get her ears pierced. She had previously chosen the biggest, sparkliest pair of stones she could get. She was pretty brave. I think it surprised her how much it actually hurt.

For her party, she chose to have a birthday lunch at Panda Express with the family, then a trip to the theater to see a movie (When I first asked her where she wanted to go for her birthday, she said, "Disneyland!" When I asked her what her second choice was, she said "Go to the movie theater!" Done.).
Afterwards we went back to our house to enjoy the birthday dessert Bree had designed. Chocolate pie with layers of fudge, Snickers, pudding, and whipped topping, all in an Oreo crust. My teeth are aching a bit just thinking about it.
Then it was time for presents. Books from Adam and Heather (Bree LOVES to read). Earrings, a baby doll (with brown eyes and blonde hair...virtually impossible to find) and a white tiger (she is still in a stuffed animal phase) from Chad and me. A white sweater and a homemade personalized scripture case from my parents.
Bree is kind, thoughtful, smart, curious, empathetic, brave, and so loving and helpful. She can be precocious, moody, and dramatic. She certainly keeps life interesting. I look at her today, with her thick ponytail and pierced ears, and hear her spouting random facts using big words, and I think, "Who are you? My little girls looks like this:"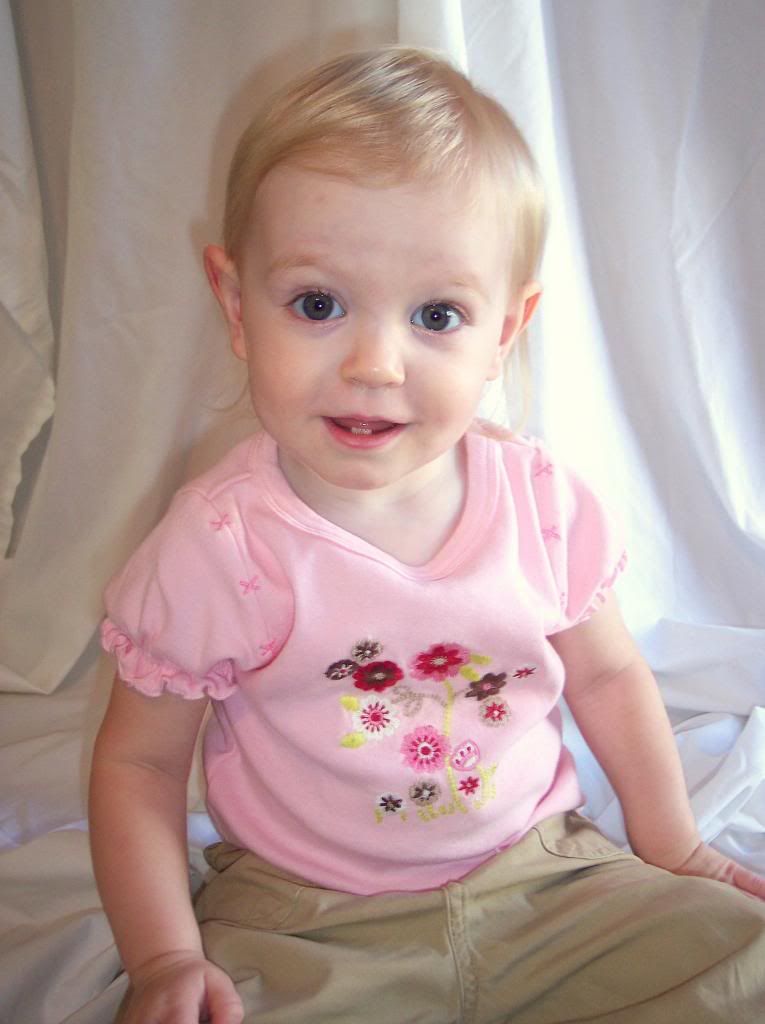 But the years ahead, though they scare the heck out of me, are going to be great.
This was a big year for Bree. One to remember.
Bree's 8-Year-Old Interview
:
What is your favorite color?
blue
What is your favorite toy? fashion sketch book

What is your favorite TV show? Animal Atlas
What is your favorite movie? Harry Potter
What is your favorite thing to wear? Shorts and tee-shirts
What is your favorite animal? giant panda
What is your favorite song? "I Like to Look for Rainbows"
What is your favorite book? Charlotte's Web
Who is your best friend? Cassidy (girl in class at school)
What is your favorite drink? strawberry lemonade
What is your favorite food? spaghetti and meatballs
What is your favorite breakfast? fry bread
What is your favorite game? Disney Trivia
What is your favorite thing to do? sketch in my sketch book
Where is your favorite place to go? the mall
What is your favorite holiday? Thanksgiving
What makes you laugh? when I'm tickled...I only laugh when I want to laugh
What do you do really well? draw pictures
What are you afraid of? rattlesnakes
What do you love to learn about? history and science
What do you want to be when you grow up? archaeologist
If you had one wish, what would it be? to always be with my family