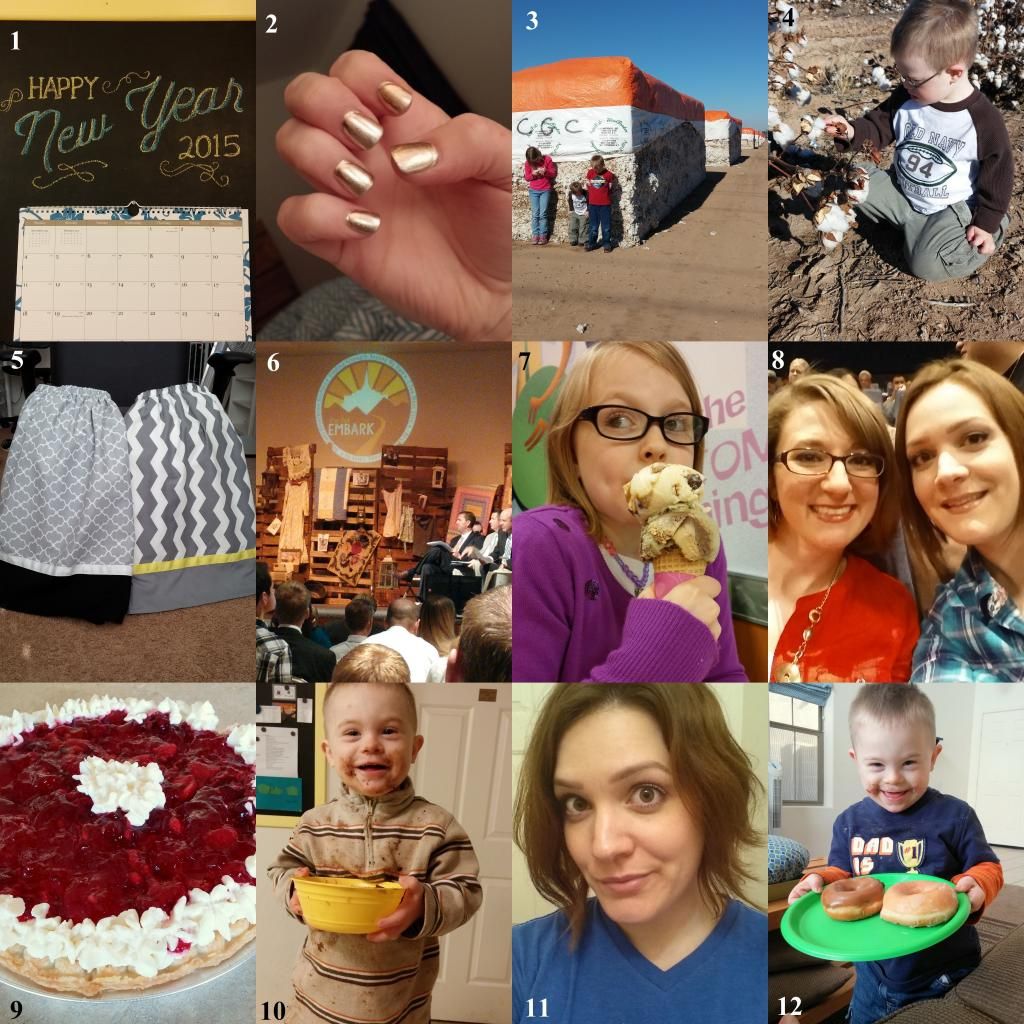 1: I just had to document how cute my chalkboard header was for the New Year. Cute chalkboard = happiness.
2: I have gotten back into making my nails cute. Santa brought me some nail polish for Christmas, and I love it. Plus, when my nails are done, I'm much less likely to chew on my cuticles, which is a very disgusting and persistent habit of mine.
3 and 4: We pass this field almost every day, and I finally decided to stop and let the kids look at the cotton up close. It's crazy to think that this fluff somehow becomes the clothes on our backs.
5: My nursing cover Etsy shop continues to be slow, yet successful. Usually the orders come in threes or fours (I'm not sure how Etsy works, but there must be some sort of search result priority rotation). On this day, I sent out a custom order (left), and my best-seller (right).
6: Trek is coming! Chad and I went to the kickoff meeting, and though we are not supposed to publicize the fact that we will be a Ma and Pa (otherwise the youth will all be desperately hoping to be in our family, and will be tragically disappointed when they can't all be), I figured I'm safe expressing our excitement here. (I
think
people read my blog, but I've been neglecting it lately, so the only person who reads it now is Jaime, because I texted her to tell her to read my new posts.) So ANYWAY, we are excited! I haven't started sewing yet, but I did purchase some pink calico, so, yeah.
7: Bree cashed in some tickets for a trip to Baskin Robbins one evening. I was happy to go with her, because their Snickers ice cream is epic.
8: I have a sweet connection for free advance screening movie tickets, and I invited Heather to go with me to see Spare Parts. A great inspirational story about teenagers from a local Arizona school.
9: Another delicious lunch with my Amateur Chef friends! Moroccan salmon with rice, and Raspberry Ribbon Pie for dessert. Mmm. Isn't Christie awesome for providing us each with our own pies to take home?!
10: This is what I get for leaving the last slice of chocolate cake on the counter unguarded. I thought it was hilarious that he served it up into a bowl before eating it. This mess wasn't as bad as when he got into the peanut butter jar a few days before that.
11: We got a couple days of drizzle in January. Like, constant drizzle, which is so rare for us. I just gave in to the frizz.
12: I'd been lying on the couch with a migraine one day, and I didn't even realize Lincoln was in the kitchen. Suddenly there he was next to me. He had gotten into the donuts, eaten two on a plate at the table, then brought me my own. Smart boy, on so many levels.