First off, I though I'd share a common sight in our home. Mason playing Mario Brothers on the Wii. He literally cannot sit still while he plays. He wants me to play with him, which I occasionally do, until I get tired of him blocking my view. Bouncing, hopping, and the occasional pee-pee dance. And on this particular day, he should have worn a belt.
Other recent random bits: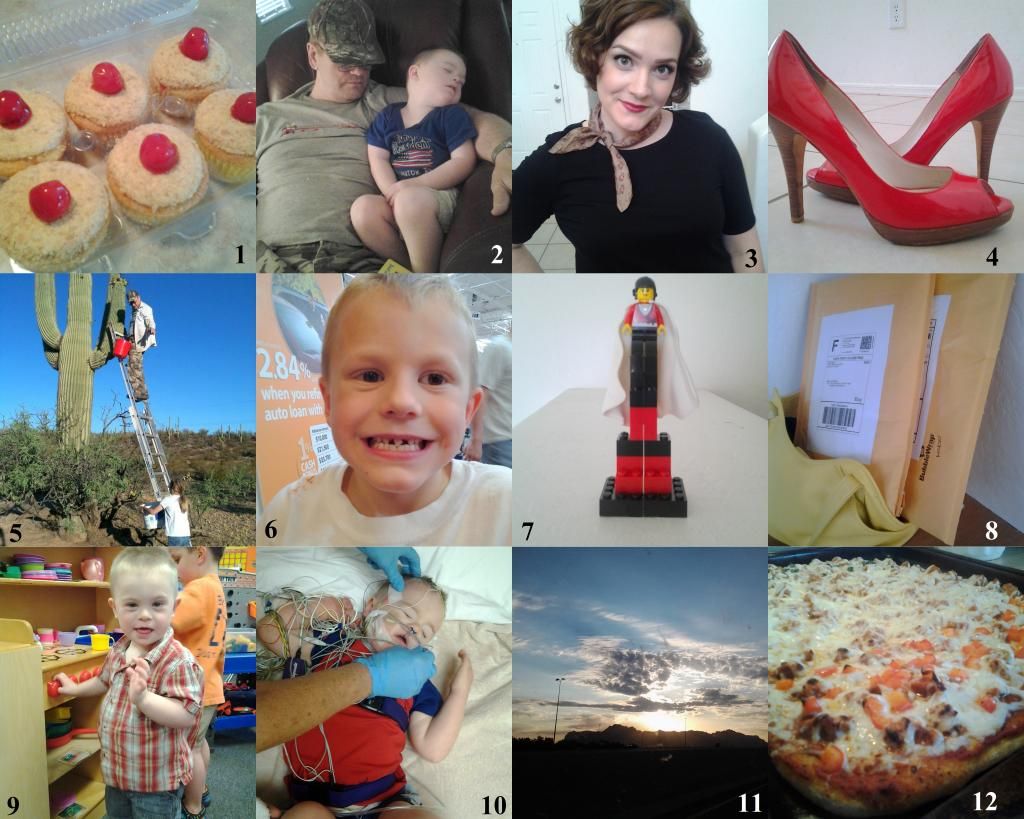 1: Cherry Cheesecake Cupcakes for my dad's birthday. I haven't been making cupcakes as much as I used to, so when I make a flavor we haven't had in forever, they taste extra delicious.
2: We stayed with my parents for a couple days to celebrate my dad's birthday. These two can often be seen nodding off, and catching them doing it in tandem was a precious sight.
3: My parents kept our kids at their house so Chad and I could have several days alone together. I look forward to these private staycations all year. We spent one night of our together time at the Elders' Quorum sponsored dance. The theme was "Dancing Through Time," so we dressed up with a little 50's flair and had a complete blast.
4: We took advantage of our kid-free time to hit a couple thrift stores. I scored these patent leather Steve Maddens for $8. They make me happy.
5: My dad sent me this photo of him and Bree picking saguaro cactus fruit. She is always the adventurer, insisting that Papa wake her early in the morning to go hiking and searching for treasures in the desert.
6: I remember when I was a kid, if I had a loose tooth, I'd wiggle it constantly so it would fall out as soon as possible. Our kids are the opposite. They baby their loose teeth so they hang on FOREVER. I don't know how they stand to have those danglers in their mouth.
7: We love The Lego Movie around here. When I saw this creation in the loft one day, I asked Mason what it was. "Bree made it. It's President Business's daughter."
8: I finally opened a shop on Etsy.com to sell the nursing covers I make. It's been exciting to see several orders come in, even though most of them have been from people I know. I love packaging stuff up and dropping it in the mail.
9: Lincoln met his new preschool teacher the week before class started. She could not get over how adorable and cuddly he is. He was mostly just excited to see his classroom, play with his toys, and say hi to a few familiar faces from last year.
10 and 11: Lincoln doesn't sleep soundly. He is tired from noon until bedtime. We know he moves around a lot when he sleeps, and he often sleeps on his chest with his knees tucked underneath him, which could be a sign that he's having trouble getting enough air. Hoping to get some answers, we signed up for a sleep study. I said a lot of prayers the week leading up to it, because I knew it would be a struggle. After checking in at 8pm, we started the long process of hooking up all the leads. I lost count of how many there were. Some on his legs to monitor his movement. Some around his chest and belly to monitor breathing. A pulse oximeter on his toe. And about a dozen all over his head. Then the nasal cannula. He finally fell asleep at 10pm, and I crashed on a mat next to his bed. He "slept" through the night, though many times the techs had to come in to reattach leads because he moved around so much. My sleep was disturbed each time, and I had to help hold Lincoln still when his nasal cannula had come off, because Lincoln was thrashing in his sleep while the tech was trying to tape it back on. They finally woke us at 5:30 in the morning, which is when I snapped this picture of Lincoln. It does not adequately capture all the wires. He wasn't happy when all the tape got ripped off, but he was glad to be free of the leads, and get out of that building. What an awful night. But my prayers had been answered; Lincoln made it through. And the sunrise that morning on our way home was glorious.
12: Homemade meatball marinara pizza. I often make pizza with leftovers (usually BBQ chicken pizza, and sometimes taco pizza), but I'd never before tried it with leftover meatballs. So delicious.