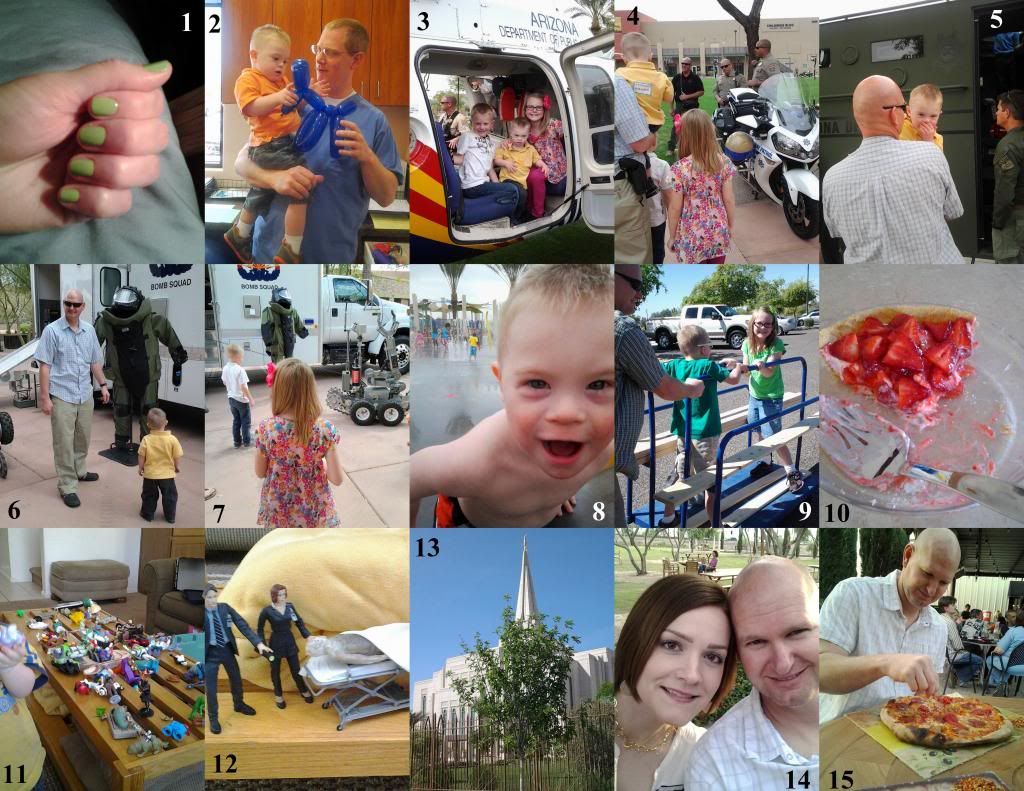 1: I swore off desserts for a while, trying to drop a few extra pounds. I usually get overwhelming snacking cravings in the evenings, so I try to replace that habit with painting my nails instead. And this green is totally me, no?
2: We have not had the best of luck with finding a family dentist we love. Choosing new doctors since the move has been stressful. Sometime hours of researching reviews pays off, and sometimes not so much. Lincoln had the first appointment with the dentist I'd finally decided on. He's never been to the dentist before. I was blown away from the first moment. I was checking in when I turned around and a man in scrubs was holding Lincoln. Once I realized it was the dentist, I relaxed a little, and just watched Lincoln do his melt-hug as the dentist walked around the office with him for 5 minutes as he waited for his patients to get settled. He was so kind and gentle with Lincoln. And then he made him a balloon animal when he was all done. Score!
3 - 7: Chad has been an assistant advisor at DPS's Advanced Academy for the past few months. We all joined him for Family Day before the graduation. The kids got to play in their respective age groups (free childcare!) while the adults sat in on a few presentations. (Chad and I were seriously wishing he'd had the same thing when he graduated 8 years ago.) It was awesome. All the different DPS units were represented and we got to get up close and personal with the helicopter and other police equipment. And we got a delicious free BBQ lunch at the end. Such a neat experience.
8: I had been promising the kids that we'd go to the new splash pad in Mesa ever since last time we were there. Spring break seemed like the perfect time. Of course it started getting overcast and chilly as we were driving there. Bree and Mason insisted they still wanted to go. They lasted about 10 minutes before they were freezing. Lincoln didn't brave the spray at all. Maybe next time.
9: This trip to Lowe's was free thanks to our Discover Card rewards. Chad finally built a work bench in the garage. He likes having a designated space to work--a place that's all his. And I smile every time I pull into the garage and see him working in there. So manly.
10: I don't remember the occasion for making this Strawberry Satin Pie...maybe we had guests over. Anyway, it is definitely my favorite pie in the world. I could literally finish off a whole pie myself.
11 and 12: Chad and I opened up an old bin full of toys from our childhoods. We gave some to the kids to play with, put some in the Treasure Box for them to earn, and put a few of them away for when they're a little older. My Polly Pockets will have to wait until Bree learns to respect tiny pieces a little better. And the X-Files action figures? I'm not sure if I'll ever be ready to give those up. Scully and Mulder are too important to me.
13: I went through the Gilbert Temple for the first time on March 28th (working on goal #11). So beautiful. And the seats are totally wider than the Mesa Temple! Super comfortable. Just sayin'.
14 and 15: Goal #4 (
Go on a date
with Chad
to somewhere new
) is complete. My parents babysat so Chad could take me to the Olive Mill for wood-fired pizza. I've only been asking to go since we moved here a year ago. There was live music on the patio, twinkly lights on the olive trees, and a beautiful sunset and cool breeze. The pizza was delicious and unique--house-made olive oil (obviously), and fresh meat from the Pork Shop down the road. I have never had pistachios on my pizza, but I'm sure they were locally grown, and it was surprisingly tasty.